Not that the "mainstream media" will give this anywhere near the attention that it will give to grieving widow Myeshia Johnson being trotted out as a prop by the Left to try to discredit President Trump, but the Muslim subduing of Sweden has been stepped up in recent days. There were seven bombings in Sweden (not that populous a country) within twelve days. (VIDEO BELOW)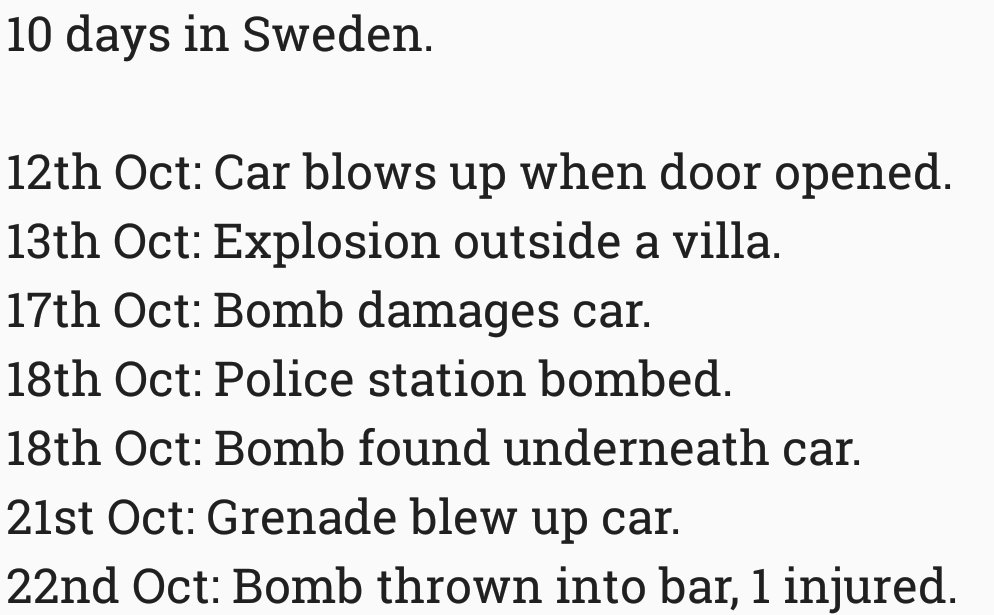 (VIDEO BELOW)
It certainly seems that President Trump was correct in what he said in a February speech in Florida — words for which he was widely ridiculed — about the "new normal" in Sweden. At that time he said: "You look at what's happening in Germany, you look at what's happening last night in Sweden — Sweden, who would believe this? Sweden — they took in large numbers. They're having problems like they never thought possible. You look at what's happening in Brussels. You look at what's happening all over the world. Take a look at Nice. Take a look at Paris." (VIDEO BELOW)
Peter Imanuelsen (worth following at @PeterSweden) has been reporting on the actual situation in Sweden, with a considerable sense of dire urgency, not being afraid to discuss the "war zone" that Sweden has beeb becoming and how a "with-an-agenda" "mainstream media is completely ignoring this."
7 bombs in 12 days in Sweden.

And mainstream media is completely quiet. Help get the truth out there.https://t.co/PYZbtk8MF5

— PeterSweden (@PeterSweden7) October 23, 2017
There were numerous sobering responses on Twitter, e.g.:
That´s the "new" normal in Sweden, thanks to their political class and open borders "refugee welcome".

— ejpain (@ejpainn) October 23, 2017
Sweden will have to vote out their government. Or they are doomed.

— David Brown (@Brown97M) October 23, 2017
And there's no mention on media? If it's true and media doesn't inform then there's no more doubts about the agenda, right? Did you listen?

— WakeUp (@wekkerAMD) October 23, 2017
ARE YOU DISGUSTED BY HOW THE "MAINSTREAM MEDIA" WON'T TELL YOU THE TRUTH ABOUT WHAT IS REALLY HAPPENING IN SWEDEN AND SO MUCH OF EUROPE? IF SO, DO YOUR PART TO HELP COUNTER THE SITUATION BY SHARING AND POSTING THIS!!!!!