Veteran running back Marshawn Lynch of the Oakland Raiders, who is now 31 years old and presumably should know better, has been suspended by the National Football League for assaulting a referee.
Screenshot from Thursday Night Football
To recall, Thursday night, there was a violent "extracurricular" on-field incident in the NFL's Thursday Night Football game involving the Oakland-soon-to-be-(courtesy-of-taxpayer-funding)-Las Vegas Raiders and Kansas City Chiefs.
Even though the Raiders were on defense at that point and Lynch was therefore not in the game, he was unable to control his own need to run onto the field to get involved. Soon thereafter, even though Lynch has been sitting during the National Anthem as a protest of supposed violence against blacks, he committed an act of anti-black violence himself by assaulting a black referee with an unprovoked push.
https://twitter.com/SavingAmerica4U/status/921578816136515584
Now the (failing) league has taken action. According to NFL.com:
Marshawn Lynch has been suspended one game by the NFL, league spokesman Michael Signora announced Friday. Lynch was suspended for his actions in Thursday night's game, in which he made contact with an official, drew an unsportsmanlike conduct penalty and was ejected.
Lynch will appeal the suspension, NFL Network Insider Ian Rapoport reported, per a source informed. The suspension will cost Lynch a game check, which equals $110,662 — $79,412 in base salary and $31,250 in per-game bonus — per Rapoport.
Lynch left the sideline between plays as confrontation was occurring on the field and stepped into the fracas, making direct contact with an official as a result. The contact, which Raiders coach Jack Del Rio called "inexcusable," resulted in the penalty and ejection.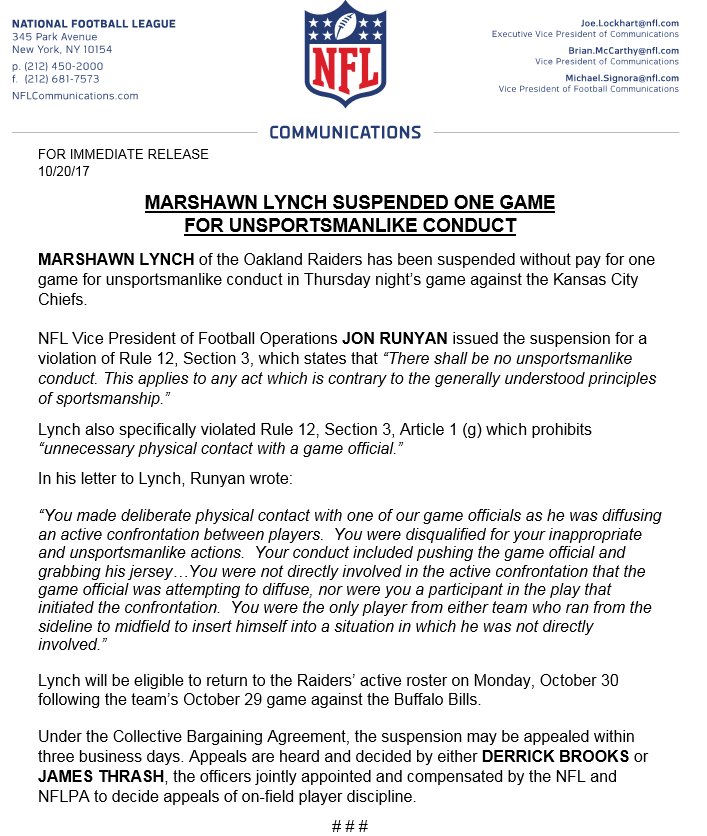 "You made deliberate physical contact with one of our game officials as he was diffusing an active confrontation between players," NFL VP of football operations Jon Runyan wrote in a letter to Lynch, according to the league's release. "You were disqualified for your inappropriate and unsportsmanlike actions. Your conduct included pushing the game official and grabbing his jersey … You were not directly involved in the active confrontation that the game official was attempting to diffuse, nor were you a participant in the play that initiated the confrontation. You were the only player from either team who ran from the sideline to midfield to insert himself into a situation in which he was not directly involved."
Lynch appeared to take the field in search of Kansas City's Marcus Peters [a fellow Oakland native that another Raider referred to as Lynch's "cousin"] with peacemaking as his intention when he came in contact with the official.