Just when you thought NBC could not possibly sink any lower, into the realm of "fake news," and tabloid filth, they have gone and outdone themselves once more! Yesterday, we reported on NBC, unwarranted attacks on President Trump's Inaugural Speech (UGLY LIBERALS: Dishonest Press ATTACKS Trump's Speech. What President Trump did will AMAZE you!) and two weeks ago, it was Matt Lauer hammering Reince Priebus, (DISGUSTING!! (VIDEO) A NEW LOW: Libtard Lauer Reports FAKE NEWS with Gusto. Today Show slithers in the dirt with CNN and MSNBC.) on the fake news story about Russians and prostitutes.  As of this writing, Lauer has not come out with any type of retraction of apology for that. What NBC has done now, is the most despicable thing yet!
A writer for NBC's washed up comedy show, "Saturday Night Live," has decided to go after President Trump's 10 year old son Baron. Katie Rich, a "Saturday Night Live" writer, tweeted Friday that 10-year-old Barron Trump "will be this country's first home-school shooter."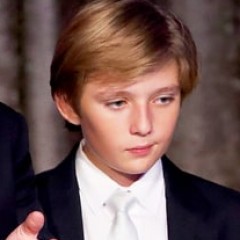 What kind of sick minded, twisted person would make a joke about mass murder, and go after someone's innocent 10 year old child at the same time?  A liberal sicko, that's who!
Katie Rich, who has been with Saturday Night Live since 2013, took the tweet down after 3 hours, or getting blasted by the public, and now… has gone into hiding, by making her Twitter account private.
"Wow who thinks insulting kids is funny? Weak,"

Twitter user @Friendly

t rants #SNLnotFunny #BoycottNBC,"

 @Jessies_June.
.@nbcsnl writer @katiemaryrich calls President Trump's 10-Year-Old son a mass murderer. Hey @NBC @NBCUniversal why is this hate tolerated? pic.twitter.com/ZYDVSETLJn

— Mark Dice (@MarkDice) January 21, 2017
Here is an adorable GIF of Barron playing peek-a-boo with his niece while his Dad is signing bills.
Here is a video clip of young Barron walking in the parade with his dad, President Donald Trump, and his mother, First Lady Melania Trump.
https://www.youtube.com/watch?v=kKDIX6VkEFI
*** The Liberal Media is full of sickos. Do you think this lady should be fired from SNL?  Please SHARE this article if you do!
*** Do you think it's about time they pulled the plug on washed-up Saturday night Live?